Bahria Enclave Phase 2 Islamabad
vaBahria Enclave Phase 2 Islamabad is one of the latest phases launched in this renowned housing scheme named Bahria Enclave Islamabad. It is known as one of Pakistan's most popular housing schemes mainly because of its modern features and rich living experience. This housing society itself is straightforward to access not just from Kashmir highway but also Lehtarar Road several other link roads. bahria town karachi 2
Phase two is launched after phase one of this housing society, which covers almost 1180 kanals having more than 400 residential plots. The most exciting fact about this phase is its flourishment and the elegant buildings. There are almost 16 sectors in this housing society and several plotting schemes where one can easily avail commercial and residential plots at a very reasonable price. 
Launch of the long-awaited project
The much-awaited project of Bahria Enclave Islamabad has been recently launched, which is named phase two. The commercial and residential plots for sale are opened. The biggest facility in this phase is one can easily avail plots for their farmhouses. The overall booking which was recorded in phase one of this housing society was exceptional, and that is why this phase has been launched so that those people who were unable to get the opportunity to buy plots in the face one of this housing society can get this opportunity by the launch of phase two of Bahria Enclave. Bahria Enclave 2 is known as one of the ideal housing societies where one can enjoy beautiful and serene places surrounded by greenery and Margala Hills kingdom valley islamabad
Bahria Enclave Phase 2 Islamabad Plots 
Phase two of Bahria Enclave has all types of commercial and residential plots, which are extremely easy to book because of monthly installment plans specially designed to provide more and more opportunities of buying properties to the customers in this housing society. Both 5 and 8 Marla plots are available for sale in the residential scheme, and now with the launch of this phase, one can also buy 10 Marla and one Kanal plots in the residential scheme. The commercial plots are available in multiple sizes, which start from 1 Kanal farmhouse to 4 Kanal apartments. kingdom valley islamabad
Bahria Enclave Phase 2 Islamabad payment plans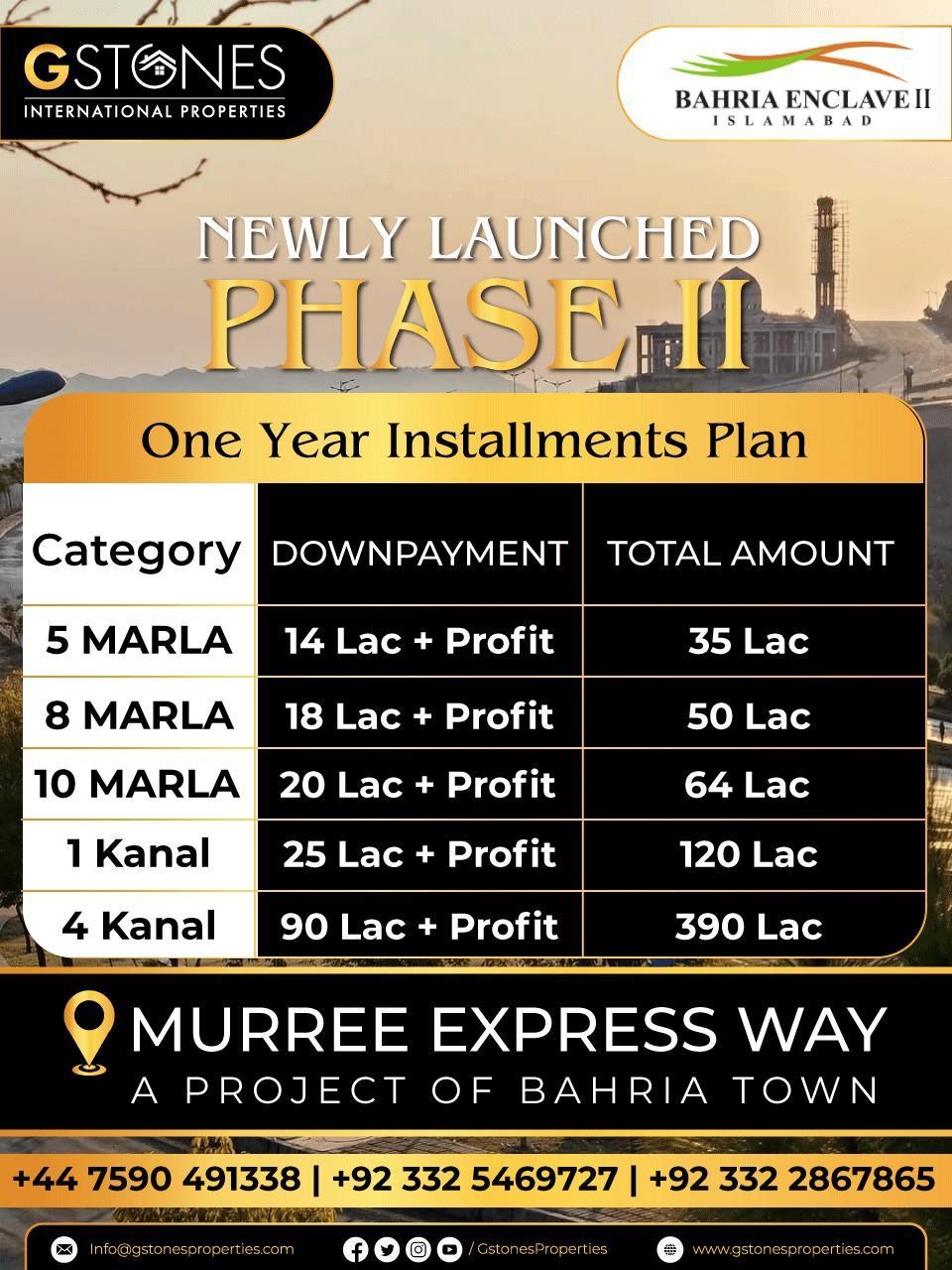 Both the prices and payment plan of farmhouses and residential plots in this housing scheme are designed specially in such a way so that one can easily buy a plot in this housing scheme. The five Marla plots are readily available in 20 lacs on a down payment, and if you are looking to buy them on four quarterly installments, you will have to pay 5.25 lacs in four installments so that the total will become almost 41 lacs.
Similarly, 8 Milla plots will be available in 24 lacs, and if you are looking for four quarterly installments, then the total price will become 56 lacs. The 10 Marla plots are available in 25 lacs. The four full installments will become a total of 70 Lacs. Both the one and four Kanal plots are available at a total price of more than one crore, and you can also buy these plots in four quarterly installments. So, the overall Bahria Enclave Phase 2 payment plans are available in both down payment and quarterly installments.
Why you invest in Bahria Enclave Phase 2 Islamabad 
The newly launch Bahria Enclave Phase 2 has several reasons which have attracted many residents. Also, foreign investors and renters are looking to invest in phase 2 of this housing society mainly because of its location. The extensive network of its infrastructure is one of the reasons of attraction for its residents. Apart from this housing society's prime location, several facilities are easy to access for everyone living in this society. The development structure is also considered as the best among its competitors.kingdom valley islamabad new housing project 
There are several luxurious amenities available 24/7, including a mini–Golf Club, especially for those who are into sports, along with several other sport options such as Sports Complex and house routing club. The mini formula track for racing is also available for its residents. Some other facilities such as cinema, high-class educational institutes, and shopping complexes are available 24/7. The commercial opportunities are under the development process, and the most acknowledged part in this development procedure is an excellent mosque that comprises almost 100 feet wide roads.
About US
The company was founded in 2014, GSTONES INTERNATIONAL PROPERTIES has grown to become one of the most respected names in the property industry especially the overseas community all over the world.
Call Us
Islamabad Office: 0518748786
UK Office: +44 7590 491338
Lahore office: 042-35700705
London Office (Head Office)
Office 314 10-17 Seven ways, parade Gants Hill london IG2 6JX
Lahore Office
Plaza No 140/13 4th Floor Block C Phase 8 Commercial Broadway Lahore
Islamabad Office
Office # 1, 2nd Floor Lord Trade Center F-11 Markaz Islamabad