Capital Smart City Islamabad is home to one of the city's burgeoning housing societies. The project is owned by a partnership between two well-known and powerful developers, Habib Rafiq (Pvt) and Future Holding Developments.
Because of its outstanding facilities, particularly Grade-8 development, the society's infrastructure is founded on the notion of becoming Pakistan's first smart city. The capital smart city is an outstanding initiative that has been recognised as Asia's fourth finest capital city project and Pakistan's first. The reason for this ranking is its fantastic and faultless infrastructure, which is made up of one-of-a-kind and exceptional amenities and features. 
The development of this society aims to have a luxurious yet affordable living standard. They aim to be a society that focuses on urban management efficiency, modern technology, and sustainability for all residents. It's a state of the art project which is meant to take care of an eco-friendly environment. Capital Smart City thrives on being the primary smart city of Pakistan, covering all aspects of a modern-day housing society with international standards.
The capital smart city has been established with tons of dedication, keeping in mind the smart characteristics. Their innovative offer stands for sensible investment, smart people, smart choice, smart economy, smart living, smart governance, and smart mobility. It provides a deluxe and economical lifestyle and a serene view that brings a relaxed and enjoyable aura. Their plan has been commenced by Surbana Jurong (SJ), a consultancy firm based in Singapore, to get their clients' dreams alive. The smart city consists of a singular and futuristic design, delivered to life by Norman Foster. It's undoubtedly one among the grand societies with astonishing attributes which will attract great investments and tourism. A sensible innovation intrinsically will set a horizontal bar within the land industry, as smart as that new thanks to living!
Developers of Capital Smart City Islamabad
Capital smart city Islamabad project is based on partnership of two developers' future holding developments and Habib Rafiq Pvt. Habib Rafiq(Pvt) is a well-known name within the land industry in Pakistan, and they are developers of Bahria and DHA in Islamabad. Name of Royal Orchard Multan, Royal Orchard Sargodha, and Royal Orchard Sahiwal, respectively.
Capital Smart City Master Plan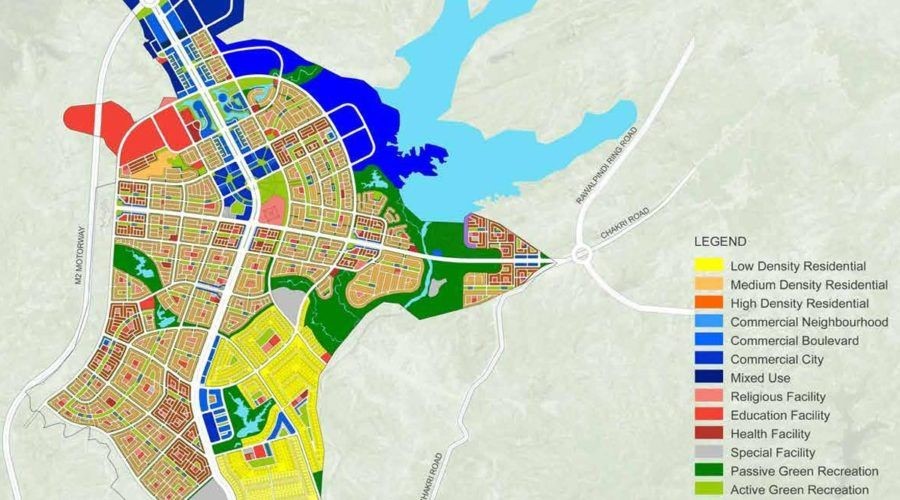 The master plan of the smart capital city Islamabad is based on the Township Model Approach. The total land area of the project is based on almost 55,00 Kanal. This astonishing society aims to promote a friendly and eco-friendly environment where one can spend their life peacefully.
The master plan of capital smart city Islamabad portrays the overall development plans and strategies. According to the project, society is divided into multiple top class-blocks, including overseas blocks. However, for the execution of the development of these blocks, the society is working with the master planner Surbana Jurong and Norman Foster. These two master planners are the primary cause of society's overall design and architecture work.
Surbana Jurong (SJ) may be a renowned Consultancy firm whose headquarters are based in Singapore. It's one of the essential Asia-based consultancy firms focusing on engineering, urban management, industrial and infrastructure forms. The corporate plays an enormous role in one-stop solutions and has 16,000 employees worldwide, including designers, architects, engineers, planners, and other known experts. The corporate is established on shaping cities as homes; it creates sustainable jobs where businesses and communities can prosper.
The plan of Capital smart city Islamabad, which Surbana Jurong has formed, may be a unique and new ideology with up-to-the-mark features and the latest facilities that cater to society's residential, commercial, and entertainment elements. They need to focus on alleviating the natural facilities within the society and creating a state of the art infrastructure with international standards like public transports with proper strategic stations. Moreover, they also need to include a high-rise building cataract and Central Boulevard. They aim to make an environmentally friendly space with impeccable services to work, live, and play!
Capital Smart City Islamabad Location
The capital smart city is situated in the region of Islamabad near Islamabad International Airport. Lahore-Islamabad motorway is located at a distance of almost 9.2 km from M-2 Toll Plaza next to Thalian Interchange from Capital smart city Islamabad. Capital smart city Islamabad is surrounded by beautiful and fantastic housing societies, including Eighteen Islamabad, Blue World City, Al Mairaj housing scheme, and Lahore smart city. The most interesting fact about its location is that it falls on the esteem route of CPEC.
Capital Smart City Islamabad Map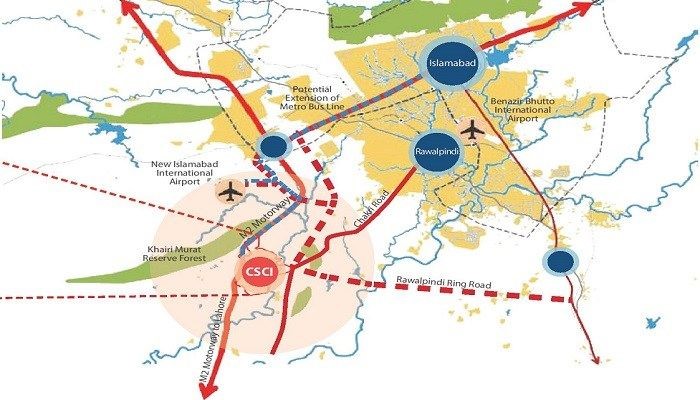 Capital Smart City NOC
Capital Smart City Islamabad has been approved by the Rawalpindi Development Authority (RDA) as a legal residential project. It's officially been declared legitimate by RDA, updated on their website in September 2019.
Essential Features of the Capital Smart City Islamabad
Capital Smart City Islamabad is being built to provide a modern and luxurious lifestyle while still being cost-effective. The project boasts one-of-a-kind and beautiful qualities, incorporating modern-day art development with a high-quality lifestyle. Their primary goal is to promote a wise and efficient way of life. Let's have a look at some essential features of society:
Eco-Friendly Environment
There is no doubt that city life is full of rush and hustle where everyone is busy in their activities whether it's about job or education. Therefore, an eco-friendly environment is mandatory for those who want to get rid of such toxic life. For such reasons, the primary purpose of a smart capital city is to provide an eco-friendly environment to its residents where they can enjoy their life.
Metro Bus Station
Transportation is a significant concern, especially for those who can't afford their transportation facility. The capital smart city is located near one of the metro buses stops where one can quickly get their metro bus.
24/7 Availability of Electricity, Water and Gas
No one can imagine their life without essential utilities that include the availability of electricity, gas, and water. Capital smart city has a unique arrangement of these facilities.
24/7 Security
Whenever someone thinks about buying a property, they think about a proper and secure place because security is everyone's priority. Therefore, smart capital city Islamabad has managed to provide outstanding security to its residents.
Availability of Hospitals
Capital smart city Islamabad society offers the availability of hospitals along with qualified doctors to deal with any critical situation. Hospitals are an essential entity in every community because one cannot waste their traveling miles in times of emergency.
Availability of Schools
Capital smart city Islamabad comprises varieties of well-reputed schools for its residents.
Availability of Mosques
Capital smart city Islamabad is specially designed to comprise mosques in different blocks for its residents to offer their daily prayers.
Availability of Parks and Jogging Grounds
Physical activity is essential for mental and physical health. Therefore, capital smart city Islamabad is all set to offer parks and jogging grounds to its residents for healthy and active physical and mental health.
Availability of Hotels and Resorts
Beautiful Hotels and luxurious resorts are also the central part of capital smart city Islamabad's project. The purpose of these hotels and resorts in society is to provide its residents an opportunity to spend quality time with their loved ones.
IDENTITY AND HISTORY
Capital Smart City will become a trademark of originality and heritage for both foreign and local visitors, with new landmarks being built-in society and contemporary religious and cultural centers.
LIVING IN COMFORT AND QUALITY
The society is built to produce a resilient social environment in the region, allowing people to live in a beautiful and serene setting while also allowing the society to grow as a business, residential, and recreational center.
Important Facilities
To fulfill their clients' dreams and encourage international investments and tourism, Capital smart city Islamabad offers an elite lifestyle based on International Standards. They have a clever radial growth pattern, considered an entire facility, to execute a luxurious living standard, establishing living efficiency. Following are some of the essential facilities offered by Capital Smart City Islamabad. 
Aviation Point

Financial Square

Health Care Facilities

Deluxe Parks

Mosques

Education Accessibility

System of BRT

Overseas Districts

Potential Infrastructure

Urban Utilities

FDH Buildings

Gated Community

CCTV Surveillance
Fundamentals of Capital Smart City Islamabad
The following factors are required for Capital Smart City Islamabad to sustain the Smart approach and execute an exquisite lifestyle.
Smart Housing
At Capital Smart City Islamabad, they have worked tirelessly to create a luxurious yet inexpensive lifestyle. They are attempting to establish their mode of conveyance. They value the quality of life and have developed a social and welcoming environment that emphasizes ease while allowing residents and tourists to appreciate the surroundings.
Smart Economy
The Capital Smart City Islamabad has built a reputation for being a thriving economic hub with several job prospects. Its residents can attract international investment with their unique designs and state-of-the-art lifestyle. To meet Pakistan's financial needs, the city has also focused on creating commercial work possibilities.
Capital Smart City Blocks Division.
As mentioned above, society has been divided into multiple blocks. Following is the list of Capital smart city blocks.
Overseas Block

Overseas Prime Block

Executive Block

General Block

Harmony Block
Capital Smart City Overseas Block
The Overseas Block was launched at London Dorchester. The Capital Smart City Islamabad is the first to determine a foreign Block in Pakistan. This Block is solely restrained for Overseas Pakistani living abroad. This smart project allows the Overseas Pakistani to take a position in Pakistan, bringing back an excellent investment return. The Overseas Block is the most featured of CSCI, containing truth facilities of the society. It's predicted to be the foremost anticipated Block for all Pakistanis living abroad. This Block is found within the upper part of the proper area of the most boulevard of CSCI with an incredibly scenic view. It's easily accessible by Islamabad Motorway M-2 Junction. This particular Block has many benefits too. It allows Pakistanis abroad to form a secure investment in their country, keeping in mind their diligence and efforts to contribute to Pakistan.
Overseas Block plot sizes and price plan
The Overseas Block consists of plot sizes of 5 marlas, 7 marlas, 10 marla, 12 marla, 1 Kanal, and 2 Kanal that will cater to the demands of Overseas Pakistanis.
Overseas Block Payment Block
Capital Smart City Overseas Prime Block
Overseas prime Block of the capital smart city is one of the most captivating Blocks of the society. Though the Block is still under construction according to its map and master plan, it would offer various amenities. The Overseas prime block is designed to have a separate entrance from Chakri road, and it is directly connected to other blocks of the capital smart city through a bridge. According to some recent news from different sources, investors will get possession over plots in two years.
Capital Smart City General Block
The General Block is found right after the Overseas Block. At the beginning of this project, people were booking the overall Block. Capital Smart City Islamabad introduced many sizes of economic and residential plots within society. The range varies from 5 Marla to 1 & 2 Kanal Plots in several blocks.
Capital Smart City Harmony Block
Many people cannot invest within the upper-class blocks, so Capital smart city Islamabad established the Harmony Park Blocks that seeks those trying to find a coffee-priced investment. This Block gives you quality and affordability. The facilities and Features of this Block are even more exquisite because the remainder of the blocks but, the Harmony Park Block comes with additional affordability. It's economical yet luxurious. This Block consists of small residential plots like 3.5 Marla plots; the Harmony Parks Block also offers One and Three Bedroom Awami Villa Apartments covering three .5 and 5 Marla Plots. These plots accompany flexible and convenient payment plans of just about 3.5 years. This block's location is near or around the Executive Block hence is often reached by the Chakri road.
Capital Smart Villas
Capital Smart City has partnered with Trivelles International, a significant property development and investment company in the United Kingdom, to build Pakistan's first-ever Smart Villas in their "Trivelles Lake Boulevard" housing project. The villas' current development will have the best smart, up-scale, and revolutionary elements to provide tenants with a living experience ahead of its time.
Features of the Smart Villas.
Following are the most prominent features of smart villas:
Remote access via mobile phones

Smart motion sensors

CCTV outdoor & indoor camera

Temperature and humidity sensor

Automated door lock

Gas sensor

Smart doors and windows

Magic box 
Frequently Asked Questions
How is the capital smart city Islamabad different from other residential societies?
Ans. The overall infrastructure of the society is based on modern technological work where one can find almost every luxury of life. It is different from other societies because international designers have designed its infrastructure. Other than this, society is majorly designed with the sole purpose of creating an eco-friendly and pleasing environment for those who want a peaceful life.
 When will society fully develop?
Ans. The construction of the society has already started according to its master plan. For more details, please read the article mentioned above. The article contains every detail about the project.
 Is the smart capital city Islamabad legally authorized society?
Ans. Yes, the society is 100 percent legally authorized society with legally approved NOC.
 What facilities are provided by the capital smart city?
Ans. The Capital Smart City is offering a self-sustaining housing society with various unique features, including a BRT system, climate control apps, free Wi-Fi hotspots, traffic management apps, surveillance systems, appliance control apps, and more.
Is this society good for long-term investment or short-term investment? 
Ans. If someone is looking for a good investment opportunity, they should head towards the capital smart city without having any second thoughts. The project is the best option for long-term investment.
If it is under the Rawalpindi Development Authority, why is it called Capital Smart City Islamabad?
Ans. The city of Islamabad's layout plan is being revised. This society may be included in the new plan because it is located on the outskirts of the current Islamabad region, hence Capital Smart City Islamabad.
 What is the process booking plot in the capital smart city?
Ans. For booking purposes in a capital smart city, one should need the following documents:
Passport Size Picture

Copy CNIC

Booking Amount

Copy of one's blood relatives



Why should one invest in the overseas Block of Capital Smart City Islamabad?
Ans. In the Capital Smart City housing project, the overseas Block is quite essential. It expresses gratitude for all of the hard work and effort that Pakistani nationals residing overseas have put in for our country. Capital Smart City is offering Pakistani foreign nationals a safe and beneficial way to invest in their hometown.
To make the process as simple as possible, online booking has been made available for those who want to invest in our initiative from anywhere in the world.
Bottom Line
A well-organized and well-managed society always attracts investors most, but a good reputation of developers is essential for investors' trust. In the case of Capital Smart City, both project owners are well-known names in the sector of real estate. Therefore investors easily trust them and avail investment opportunities. Moreover, according to details explained in the above article, society's overall master plan and development progress seems extremely promising and will play a crucial role in Capital Smart City Islamabad's overall growth and construction.
As capital Smart City Islamabad offers varieties of opportunities and excellent facilities under a single umbrella. Therefore investment in this captivating society would be proved highly beneficial shortly. So, this society is the best option for those looking for safe and long-term investment opportunities.
About US
The company was founded in 2014, GSTONES INTERNATIONAL PROPERTIES has grown to become one of the most respected names in the property industry especially the overseas community all over the world.
Call Us
Islamabad Office: 0518748786
UK Office: +44 7590 491338
Lahore office: 042-35700705
London Office (Head Office)
Office 314 10-17 Seven ways, parade Gants Hill london IG2 6JX
Lahore Office
Plaza No 140/13 4th Floor Block C Phase 8 Commercial Broadway Lahore
Islamabad Office
Office # 1, 2nd Floor Lord Trade Center F-11 Markaz Islamabad