The development will contain an estimated 82 units.
The building will contain a mix of four- and five-bedroom apartments.
The project was launched in 2020.
The estimated handover date is Q4 2024.
Construction began in 2020.
The architect of the project is PNC Architects.
Sobha Contracting LLC has been appointed as the main contractor and the piling work is being carried out by National Piling Company.
The substructure contains two basement levels which are dedicated to parking.
The project is located on plot 3820777.
Amenities will include a business centre, a cafe, a double-height entrance lobby, a library, a majlis, a mini outdoor theatre, a sauna and steam room, a temperature-controlled swimming pool, an infinity pool, an outdoor Jacuzzi, an outdoor gymnasium, concierge and lounge facilities and indoor and outdoor play areas.
The tower is be comprised solely of four-bedroom half-floor apartments and five-bedroom full-floor penthouses.
The common areas will be fitted with presence-detecting lights.
The four-bedroom apartments will have three parking spaces, the five-bedroom apartments will have five parking spaces.
The AC, lighting, kitchen appliances and curtains can be controlled by a smart home automation system.
The living areas will have 3-metre high ceilings and the kitchen 2.5-metres.
Apartments will feature separate preparatory kitchens.
Kitchens come equipped with refrigerator, microwave, oven, and exhaust hood.
There will be 6 levels of parking in the podium.
Master bathrooms will have a freestanding bathtub, a three-way experience shower, a towel warmer and a Magic Mirror TV facing the bathtub with optimal viewing angles.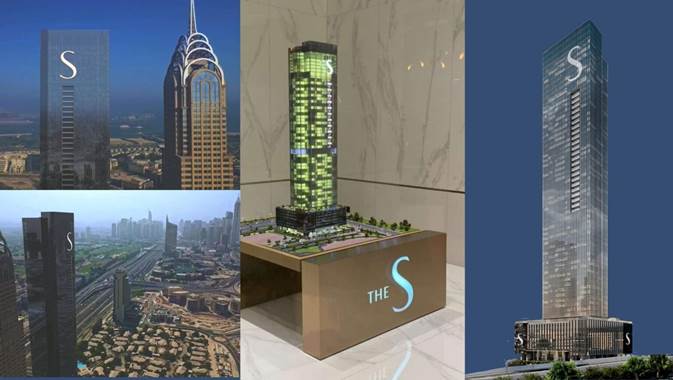 THE LOCATION
Central Location, with close proximity from The Palm, Dubai Marina, Burj al Arab, & Burj Khalifa/Downtown Dubai
Easy access to building with three major roads and walking distance from Dubai Internet City metro station.
Views – Sea views, Palm Jumeirah, Burj al Arab, Emirates Golf Course, & SZR/skyline views
ENTRANCE LOBBY
Dedicated double-height entrance lobby for residents
Concierge services
Branded café in the residential lobby.
Dedicated storage facility for home deliveries
6 dedicated residential elevators – destination controlled, that reduces wait-time for residents
1 dedicated fire/service elevator
RESIDENTIAL CORRIDOR
Wood paneling and wallpaper finishing for wall finishes
Porcelain tiling and carpet for floor finishes
Concealed electric room finished in same finishes as walls
Sensor-based lighting system – avoids wastage of electricity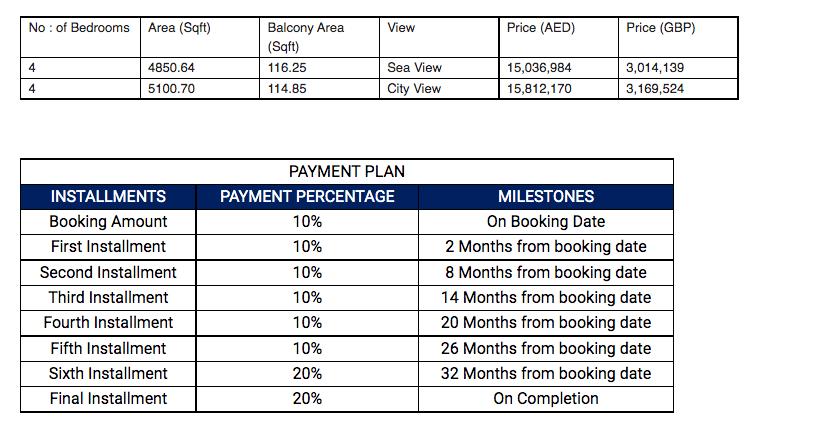 Large format marble porcelain tiles
54mm thick solid core oak door with concealed hinges. Main entrance door 2.6m, other doors 2.4m
Smart home automation – to operate AC/lightings/kitchen appliances/curtains – for convenience and energy conservation.
Presence detecting lighting system in unit lobby/corridor.
Smart power sockets for remote control/operation of sockets
Fresh air units are provided with high-efficiency filters, coupled with UV filtration for improved indoor air quality.
Low noise AC units, efficient façade system, acoustically insulated ducts and drainpipes lead to a quiet indoor environment.
Satellite storage provisions in corridor for residential units (on the same floor)
3 parking slots for 4-Bedroom apartments & 5 parking slots for 5-Bedroom apartments
LIVING / DINING / KITCHEN
Clear height of 3m in living and dining areas and 2.5m in kitchen.
Flexi track lighting with magnetic attachments, for end-user's preference and convenience.
Sleek single-slot, flangeless air diffuser to enhance aesthetics and occupant comfort, based on ASHRAE standards.
Separate display and preparatory kitchen; preparatory kitchen equipped with electrochromic glass, for practicality and convenience.
Display kitchen equipped with state-of-the-art home appliances (refrigerator, microwave, oven, and exhaust hood)
BEDROOMS / MASTER
Clear heights of 3m in master bedroom and 2.8m in other bedrooms
Bedroom dress are furnished with a combination of high-quality glass wardrobes and leatherette paneled wooden shutters with sensor-operated lights
Master bedroom finished with luxurious chevron cut oak flooring in the dressing area.
WASHROOMS / ENSUITE MASTER
All sanitaryware is provided by an industry-leading brand, including smart WC with sensor-operated lid opening/closing and remote controls. All CP fittings finished in brushed nickel finish.
Ensuite bathrooms provided with one-way glass window – from Ensuite to bedrooms, for bathroom ambience enhancement
Water-efficient CP fittings and dual-flush WC provided
Additional features provided in ensuite master bathroom:
– freestanding bathtub
– three-way experience shower – overhead rain shower, handheld, front-facing jets
– Towel warmer
– Magic Mirror TV facing the bathtub & shower, with optimal viewing angles
LANDSCAPE COURTYARD
Expansive landscape courtyard with enclosable environment
Flooring finished with combination of WPC & tile flooring
Large paneled glass sliding door
AMENITIES
Temperature controlled, infinity-edge swimming pool
Sauna and steam
Outdoor jacuzzi
Indoor and outdoor gym
Indoor and outdoor children's play area
Mini outdoor theatre
Dedicated amenities floor on the 55th level with –
– Café with dining facility
– Majlis
– Business center with meeting rooms and library lounge
PARKING
6 Levels of enclosed podium parking.
Camera and sensor-based parking entrance.
SUSTAINABLE FEATURES
Double-glazed façade – floor to ceiling glass curtain wall with superior heat and sound insulation.
Energy-efficient HVAC system; condensate water recycled for irrigation
District Cooling System used – reduced power consumption and carbon footprint
Locally sourced concrete, steel, gypsum, insulation, and tiles emphasizing on regional materials.
Roofing and hardscape with high Solar Reflective Index values, resulting in lowered heat island effect and solar gains.
Cooled cold water provided year-round; hot water provided at the optimum temperature. Combination of solar and LPG for water heating.
Sustainable, non-toxic materials used throughout, for a healthy living environment.
About US
The company was founded in 2014, GSTONES INTERNATIONAL PROPERTIES has grown to become one of the most respected names in the property industry especially the overseas community all over the world.
Call Us
Islamabad Office: 0518748786
UK Office: +44 7590 491338
Lahore office: 042-35700705
London Office (Head Office)
Office 314 10-17 Seven ways, parade Gants Hill london IG2 6JX
Lahore Office
Plaza No 140/13 4th Floor Block C Phase 8 Commercial Broadway Lahore
Islamabad Office
Office # 1, 2nd Floor Lord Trade Center F-11 Markaz Islamabad